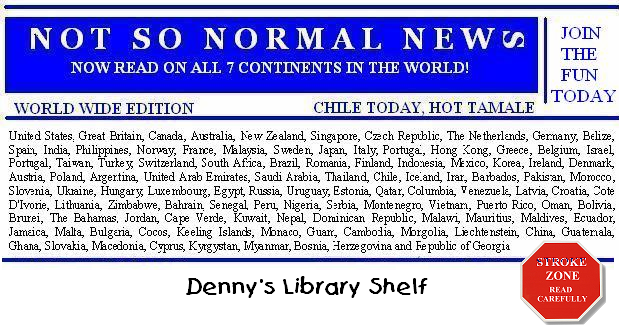 Thursday, May 31, 2007
CHATROOM PSYCHO
Chapter 3
CuddlyKitten: now that sounds interesting, maybe I'll be back then.
Moderator: yes Kitten, come back, it will be interesting, I assure you.
CuddlyKitten: will you be here?
Moderator: I am always here sweetheart. I'll be waiting for you.
The car pulled up in front of Lopez' Auto Body. "Now Miss Angie, you just stand over there and don't worry about your bags, I'll get Antonio to grab them for you." Antonio was a young mechanic just learning the trade, Hector called out to him, " "Oye Antonio, sale Senorita bolsas de Angie del tronco por favor." And with that Hector disappeared into the garage. Angie reached into her purse for her cigarettes and realized she didn't have any. Antonio was coming around to open the trunk and retrieve her bags and Angie spoke, "Excuse me Antonio, by any chance do you have a cigarette?"
Antonio smiled and said, "Si senorita." With that he pulled out a pack, shook it and one popped up and with his other hand he produced his Bic lighter. She inhaled deeply thinking at the same time that she really needed to quit. Antonio shook the pack once more, "Senorita, for later?" Angie smiled and shook her head no.
In no time Hector pulled around from the side of the building in a freshly waxed and buffed car. Angie looked and thought the car looked way too nice to be her dilapidated auto. Stopping right in front of her, Hector smiled broadly and said, "She looks beautiful, huh? and runs better than new."
Angie only brought the car in for a broken rocker arm, but damn if it didn't look like a new car. "Hector, I ..." Angie stammered. Hector gave her his infamous chuckle when he knew the people he liked appreciated the little extras he usually throws into the work. He laughed and said, "I'll put everything on a bill and you pay me at the end of the month like always?" Angie had a running account with Hector for routine maintenance, oil and all the little details about car ownership that can drive a car owner up the wall. "Thank you so much Hector, I don't know what I would do without you, really."
He opened the door for her and she looked in and saw her new novel on the front seat. "I wondered where that got to. I've been looking everywhere for it." Hector smiled and shyly said, "While your car was being fixed I have to admit I did read it... but not to worry I washed my hands and got no grease or oil on it. It's perfect. I was very careful." Hector scratched his head and continued, "To be honest Miss Angie, when I first saw it I thought Harvey and Eck was about a man and his pet dog. Was I surprised."
Angie had just started reading the new novel by authoress Erin O'Brien and left the book in the car when Hector came and towed it to his garage. "No problem Hector, just don't tell me anything about it. I hate when people do that." Angie went on, "not long ago Logan and I went to see a movie of which he read the book and sat there and told me the whole story which of course ruined the ending."
Angie slid into the front seat as Hector began to close the door. "Oh and Eck isn't a dog, Eck is..." Angie slammed the door shut and shook her head "no". Hector gave that laugh he is so well-known for having.
It felt great being behind the wheel again even though it had only been about a week without the car but was she glad to have gotten it back at this moment in her life with moving out and on with her life sans Logan. Wishing she had a cigarette she searched in the glove compartment. Not finding any, she mumbled she had to quit anyway. She hit the gas as she turned back onto Girard and headed towards center city and the B. Franklin Arms, her once old, but now new apartment building.
She really enjoyed living at the Franklin which was smack dab right in the middle of everything. She could walk practically across the street to her office. City Hall was a nice, fresh 15 minute walk. All the museums, clubs all around the Franklin. She just about forgot how much fun it really was living there. There was just one small thing that bothered her and that was the fact that Logan worked right across the street from her at O & N Accounting. O & N standing for the first names of the two sister owners, Olivia and Nina. This firm was the premier company to have doing your books if you were a major player in any Philly market.
She just knew that she would run into Logan during the day in one of the many lunchtime tavola calda's that abounded in that particular section of downtown. Her favorite Pranzo di Napoli, translated into Naples Lunch specialized in Italian sandwiches with Mozzarella in Carrozza always being her choice whenever she went there. She may just have to find a different favorite lunchtime hangout.
Arriving at the Franklin Arms, Angie pulled up right in front of the main entrance. She always loved doing that as it made her feel super rich. The BFA, as she sometimes referred to the building, had a private garage behind it for use of the residents with assigned parking. However, instituted at Dee's insistence they hired a fulltime 'car parker' which Angie could never pronounce the French name that the Arms gave to the 'car parker'. Dee was the type of person who enjoyed pulling up to a front door and have other people park her car and that's why she went for the added service for her residents and their guests. And they immediately fell in love with her and never noticed the slight fee that was added onto their yearly rental rates.
More To Come
|
|